This site is maintained for information on the administration of Little League in the Commonwealth of Pennsylvania.
---
News
Pennsylvania Delegates Attending the 26th Little League International Congress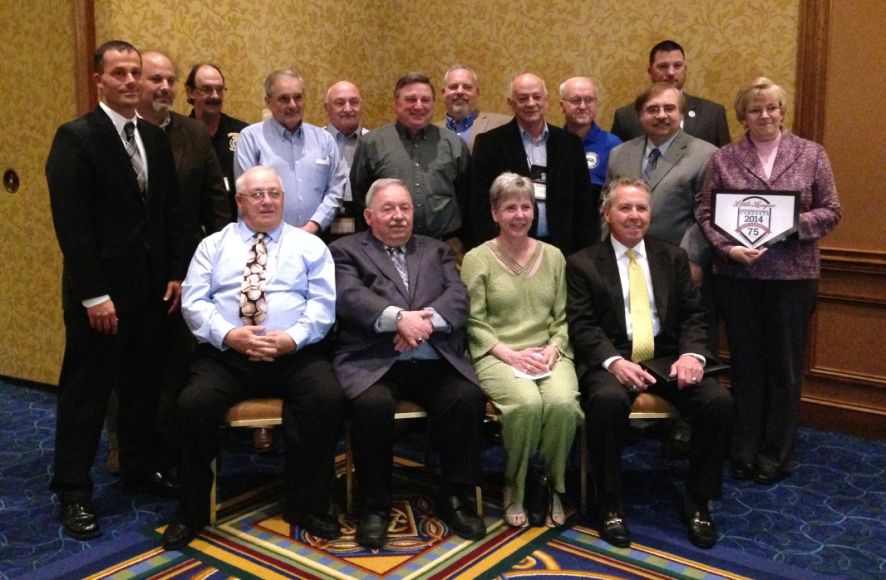 Standing left to right: Corey Wright - Assistant East Region Director, Howard Lemonick - D30, Kevin Shellhammer - D24, Jim Stonaha - D8, Scott Leinbach - D12, Bill Dithrich - D1, Bernie Kozen - D29, Joe Wendler - D14, Dean Schreiber - D13, George Guido - D26, Patrick Holden - Assistant East Region Director, Jackie Musyt - D32
Seated left to right: Bob Swope - D9, Mike Serino - D17, Jennie Todd - D23, Don Soucy - East Region Director
Missing from photo: Heather Fechtenberg - D21, Peter Vargas - D22, Terry Bean - D25
---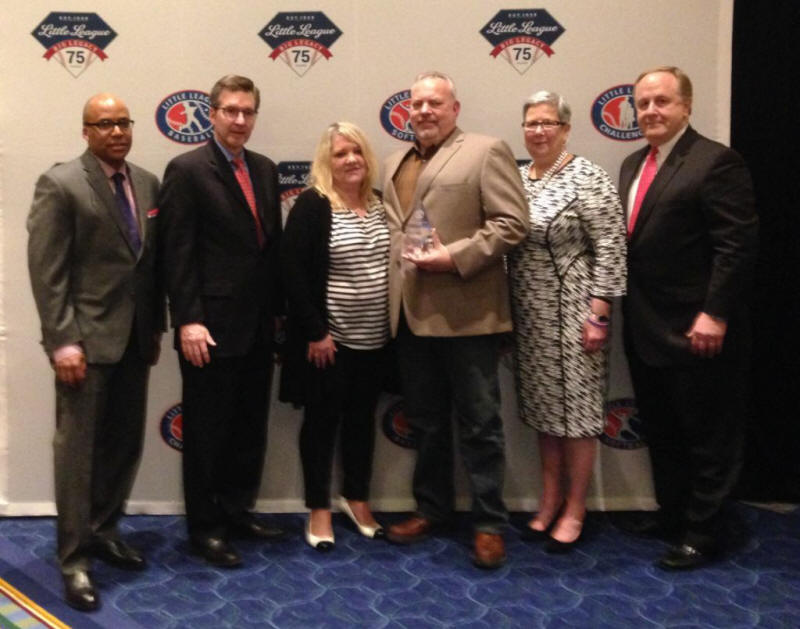 Bernie Kozen, District 29, was awarded the first ever "Character, Courage and Loyalty Award" at the 26th Little League International Congress Volunteer Recognition Lunch, Sunday, April 6th, 2014.
---
Kevin Shellhammer is the new District Administrator for Pennsylvania District 24, taking over for Charlie Roberts who has retired. We will miss Charlie and wish him the best in his retirement as we welcome Tim to the Association.
---
Marketing Presentations
The following presentations were given by Liz Brown, Vice-President of Marketing and Strategic Partnerships. The first is a pdf version of the PowerPoint presentation made at the October 19, 2013 PA state meeting. The second and third are videos presented at the District Administrator training sessions win Williamsport.
PowerPoint Presentation Training Video 1 Training Video 2
---
Mission Statement
The mission of the State of Pennsylvania, Association of District Administrators is:
To be the unifying element between all Little League Districts within the Commonwealth of Pennsylvania.
To provide the forum for a free exchange of ideas.
To be the vehicle for assignment / award of State Level Tournaments and in conjunction with Little League Baseball, Inc. set the Regulations and Guidelines for same.
To assist the United States Eastern Region Headquarters in assessing the effects of Little League policy on the Little Leagues within the State of Pennsylvania.
To assist in formulating policy and the direction of Little League Baseball, Inc. by its active participation in search of new ideas which if enacted would embrace the foundation on which Little League Baseball / Softball were founded.
To work together in a cooperative effort with the realization that our commitment must be such that it is beneficial to all Little League participants throughout the State of Pennsylvania.
Pennsylvania is divided into 32 districts organized into 8 sections:
| | | |
| --- | --- | --- |
| West Division | | East Division |
| Section 1: Districts 1, 3, 10 and 25 | | Section 5: Districts 16, 17, 31 and 32 |
| Section 2: Districts 2, 4, 9 and 26 | | Section 6: Districts 18, 20, 29 and 30 |
| Section 3: Districts 12, 13, 15 and 24 | | Section 7: Districts 8, 14, 23 and 28 |
| Section 4: Districts 5, 6, 7 and 11 | | Section 8: Districts 19, 21, 22 and 27 |